Mt Agung (Bali), Indonesia
8.343°S 115.508°E 2997 m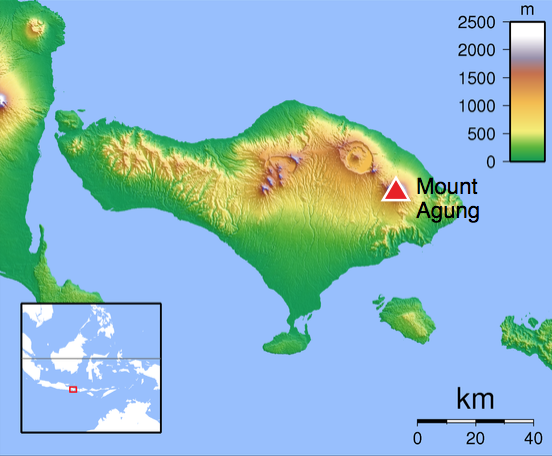 In November 2017, Indonesian volcano Mt Agung reawakened. The volcanic activity at Mt Agung late last year resulted in thousands of evacuations and produced an ash and SO2 gas plume which caused disruption to aviation.
Mt Agung is a stratovolcano located on the island of Bali (Indonesia) and lies in the Pacific 'Ring of Fire'. It is most well-known for its 1963 eruption that injected enough SO2 gas into the stratosphere to produce 11–12 Tg of sulfate aerosols, leading to a global tropospheric cooling of up to 0.4°C. Bali is also a popular tourist destination for Australians and disruptions to the international airport can impact the tourism industry and local economy.
Seismic signals
The seismic activity leading up to the eruptions in November did indicate that an eruption was imminent; however, predicting exactly when a volcano will erupt is extremely difficult. On 13 September thousands of volcanic earthquakes were detected by the local volcano observatory and by 22 September the authorities had raised the alert level to 4 (the highest on their warning scale). This indicated that Mt Agung could erupt at any moment and over 40,000 people were evacuated from the surrounding area as a result.
The alert level remained at 4 for over a month and during this time the number of evacuees had increased to 150,000; however, still no explosive eruptions occurred during this time and by October 29 the alert level was lowered to 3.
Aviation disruption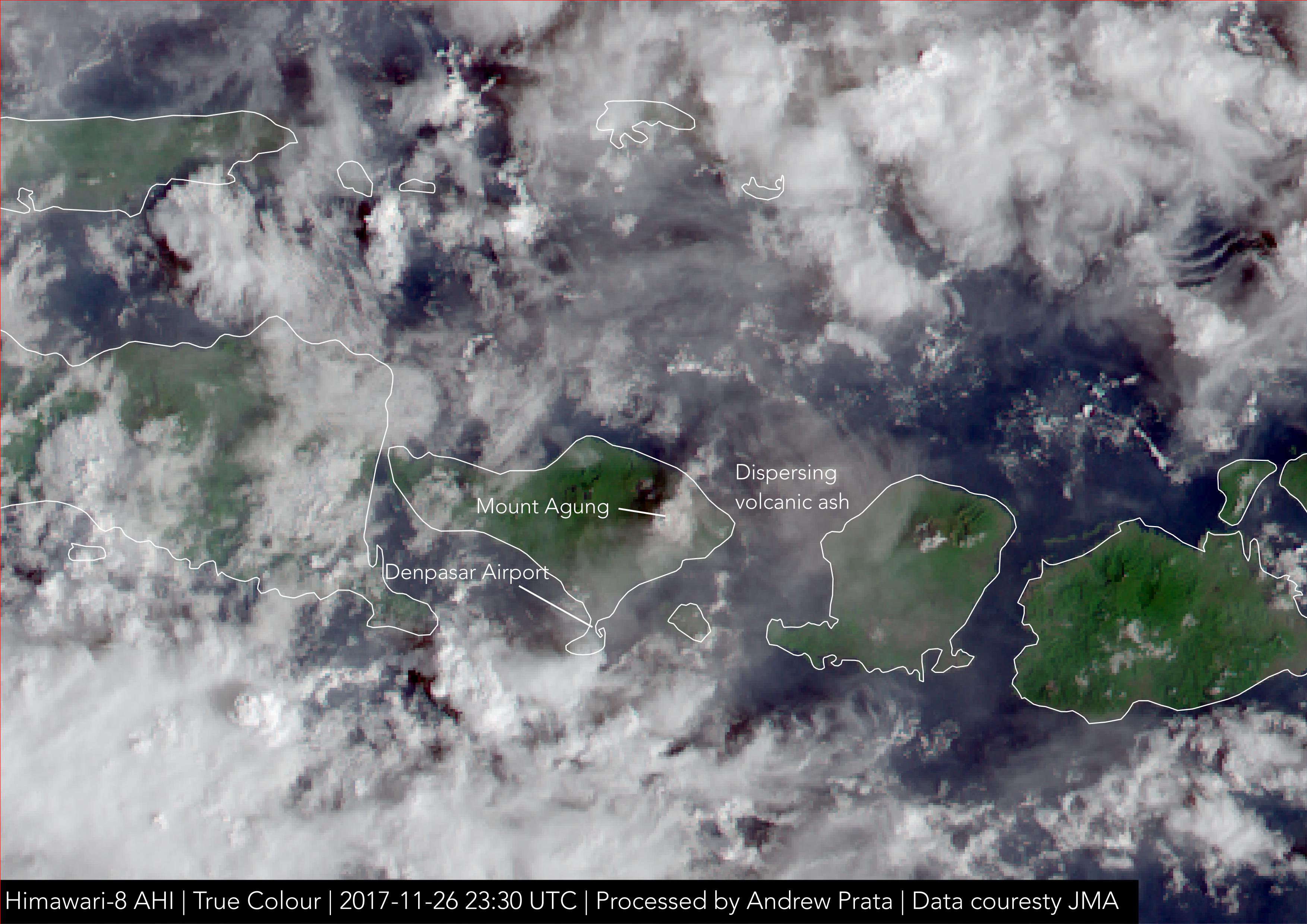 On November 21 the volcano entered an eruptive phase, beginning with a phreatic (water-driven) eruption up to ~3.7 km (asl). The eruption then progressed to a magmatic-phase on 25 November which resulted in an ash plume reaching ~4.6 km (asl). Disruption to aviation was largely felt due to the closure of Denpasar airport on 27 and 28 November. During 26–27 November explosive activity increased with the ash plume reaching as high as ~7 km (asl) during this time. Northerly winds advected the plume south and reports of ash fall eventually led authorities to close Denpasar airport, resulting in 445 flight cancellations and 59,000 stranded passengers.
Monitoring the situation
The JMA's geostationary satellite, Himawari-8, acquires data over the Asia Pacific region every 10 minutes. By processing the true colour Himawari data, the eruption could be monitored and a distinct volcanic ash plume emanating from Mt Agung can be seen on 26 November. High temporal resolution satellite data is extremely useful for authorities as continual monitoring of the situation enables emergency services to respond to unpredictable and rapidly changing hazards associated with volcanoes.
Seeing in the dark
While true colour imagery was useful for monitoring the Mt Agung eruption it can only be used during the day. Infrared detection algorithms developed by AIRES scientists can be used to detect volcanic ash and gas clouds at night thus enabling 24 hour monitoring.